Presents
Lorac's Zippin Pippin("Zippy")
Sire: CH. Lorac-Caldwell Ole Miss Rebel
Dam: CH. Lorac's Steel Magnolia
Whelped: 6/7/2004
Eye cert & hips info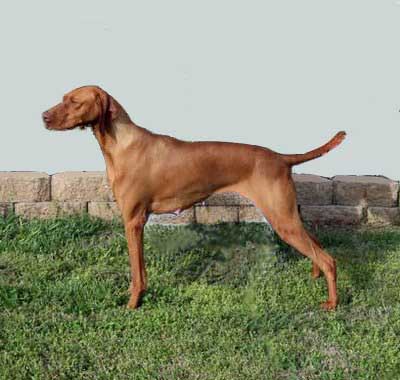 Achievements: Zippy is major pointed and only lacks a few points of being a show champion. After a maternity leave in March 2010, we hope to finish her championship.
Zippy was shown by her young owner, Julie Sommerfelt, for most of her championship points. After her young owner lost interest in dog showing (as teenagers often do) she was allowed to grow up and have one litter of puppies. Her first litter sired by Ch. Lorac's Lord of the Ring "J.R." had ten puppies.
Zippy is one of the main house dogs along with her 12 1/2 year old mother, Maggie. She is very easy to live with, very gentle with children and very quick to learn. She is the true "velcro" dog and loves to just be with her family.
Pedigree

Parents
GrandParents
GreatGrandParents
SIRE

Ch. Lorac-Caldwell Ole Miss Rebel

VZ-8032G40M-PI

CH. J-Paces C K Dexter Haven

VZ-5292G27M

CH. Genesea's Alexkazam Au'Just

VZ-2911G26M-T

Ch. Keystone High Hopes

VZ-3961G29F

Lorac's Blast from the Past

VZ5858G37F

Ch. Lorac's Limited Edition

VZ2272 -G

DC & AFC Snow Ridge Nokomis

VZ4183G24F

DAM

Ch. Lorac's Steel Magnolia

Ch. Lorac's Jedi Master

VZ3357G30M

CH. Caveat Talk A Blue Streak

VZ2566G24M-T

CH. Paradox No Detour Terre Haute

VZ2551G62F

Lorac's Blast From The Past

VZ5858G37F

Ch. Lorac's Limited Edition

VZ-2272-G

DC & AFC Snow Ridge Nokomis

VZ-4183G24F